SRSP's Initiatives for Improving Social Sector Services in KP and FATA
The education status in Khyber Pakhtunkhwa and the Federally Administered Tribal Areas (FATA) is not very encouraging. According to some statistics, the literacy rate of KP is lower than the national averages and that of FATA is even less than that of KP. Nearly, 26.6 million population in the province is illiterate. Among 9-39 years of age group, more than 70% of girls are illiterate. This dismal state of affairs is primarily attributed to poor governance and inadequate allocations in the sector. The political will is also less than what is required to amend the sector for improved service delivery. In 2012, National assembly passed the Right to Free and Compulsory Education Bill 2012 unanimously to ensure free and compulsory education to all children of aged five to sixteen years as enshrined in Article 25-A of the Constitution. Of all the provinces, KP was the last to adopt this bill.
The recent security crisis and natural disasters have further deteriorated the situation urging government and its partners to reassess their priorities. Out of 3,900 government schools that were destroyed in the earthquake only 1,500 have been reconstructed. Out of the remaining approximately 630 schools have been declared as non-strategic schools, that is, schools that still do not have any funding source for reconstruction. Similarly, nearly four hundred schools were destroyed in Swat during the security crisis and another hundred were damaged during the floods in July 2010. This does not include the number of private schools that are run by small entrepreneurs in rural areas and are the only available schools to low-income households.
According to some recent assessments conducted by the education department, there is need for construction of additional 40,000 classrooms in the existing school buildings. This is particularly important where primary schools are required to be upgraded to middle level schools. There are numerous schools where basic facilities are missing and are inadequate to meet the needs of increasing enrolment rates.
Beside the infrastructural flaws, the service delivery of education is weak and faces challenges of accessibility especially in remote rural areas, inadequate number and/or high absenteeism of teachers, ineffective monitoring and supervision of schools, low capacities of teachers, insufficient number of middle and high level schools especially for girls etc.
SRSP's education programme has therefore, been designed to respond to basic issues in the service delivery of education in remote rural areas of KP and in FATA. Its main objective is to ensure quality education for all- girls and boys'. SRSP's education programme started from two districts- Kohat and Mansehra in 1997. This was when communities had prioritized access to education as their prime need. From then onwards, SRSP has learnt and developed a comprehensive education programme for addressing issues in its service delivery. It has grown and benefitted over 25,000 boys and girls in many districts of KP, border areas and FATA. Over the years, it has grown both vertically and horizontally and has benefitted over 30,000 boys and girls in many border and off-border districts in KP and in FATA. Like its larger programme, SRSP's education initiatives do not follow a fixed pattern or pre-defined blueprint but in fact it is flexible, adaptive and responsive to community needs. This has enabled it to set workable and result-oriented examples for replication on wider scale and become innovative by experimenting various models that have proved dividends for communities especially poor and girls.
Our education programme has two basic principles; ensuring access of all and improving quality of education service.
What 'Access' means for Us?
The photograph on the right is from Spina Shagay in Kurram Agency. It is a small village of not more than a few households.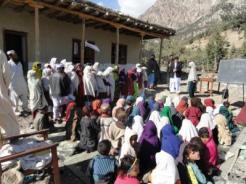 It is among the last ones on this side of the border, which is cut off from the main town by a treacherous and bumpy link road that has not been completely cleared off land mines. Poverty is rampant and people have no means of sustainable livelihood. The access of government is limited. There are no schools and health centers in the village or in its nearest vicinity.
Amid the lofty and sparsely forested mountains stands this very small mud room with its roof made of timber. It echoes with voices of 121 young children- all girls- who sit there for 4-5 hours every day with their teachers and learn English and Urdu Alphabets, basic arithmetic and poems. This small room was identified as the space, by the community, for Community-Based School that SRSP established as part of its education accessibility initiative. This school, and many other like this, enables out-of-school children to come to schools in areas where there are no government and/or private schools.
When we went to this village for social mobilization and needs assessment it was found that no one in the village had even been to the school. The teachers at the school come from another village. Since, the village has not had its own school it has not been possible for parents to send their children to schools in distant villages. This is because it incurs transportation costs and has security risks. SRSP has trained the teachers and has also helped organize and train Village Education Committee. The Agency Education Office also appreciates the effort and has registered the school with them.
SRSP has established 84 community-based schools in selected districts of KP and in Kurram Agency. This model was designed in 1998 with funding assistance of UK-based organization called Learning for Life. The pilot had 30 schools in Kohat and Mansehra. The model works through active participation of communities. However, the project sets a grant- seed money- for the school the profit on which is used for the salary of the teachers. This model was replicated and more such schools were established in remote districts of KP where literacy rates are low. Later, the model proved to be a successful in FATA as well.
Establishment of community-based schools in areas that are geographically isolated and inaccessible is one key and effective strategy for ensuring access to education. The second strategy for ensuring access is demonstrated through another case in Kurram Agency: children would attend primary government school in the nearest village. However, during a short span of time four children had lost their lives and two had lost their limbs in land mines while walking to the school. As a result, parents stopped sending their children to the school. Nonetheless, they wanted their children to have education. Hence, the community organization mobilized resources and requested for additional support to build their own school. SRSP extended the requisite financial and technical support and the school has been built for girls and boys.
SRSP's third strategy for ensuring access is through its small but highly effective academic scholarship initiative. This is being done in support of International Development and Relief Fund (Canada) and Citi Foundation. Students from low-income households who have high probability of drop-out due to related costs of high and higher secondary education, are facilitated with scholarships for pursuing their education goals. A robust mechanism for identifying such students includes use of Poverty Score Card and verification of its results and proper monitoring of students' performance for further technical and financial support. It also includes career counseling. We are currently supporting 200 students (50% girls) with academic scholarships for secondary and post-secondary education. This is mostly being done in remote areas of districts that were affected during the earthquake and Swat- affected by crisis. The initiative was appreciated by the district administration in Swat which had allocated a small amount of its funds for the purpose. This facilitates although a small number but is making an impact in lives of those who otherwise would have dropped out of the education system.
Thus, for us accessibility is not only defined as the geographic outreach to the otherwise inaccessible or in terms of mere absence of any other option (government and/or public school) but also in terms of subsidized support to communities to enhance their access to education.
Improving Quality of Service
On the right is a picture of a girls' school that was bombarded by the militants in Swat.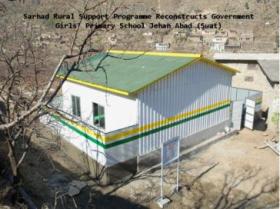 SRSP was able to rebuild the school in 45 days as Semi-Permanent Light Weight Steel Structure. It is a model that has been developed by its engineers to rebuild destroyed schools in the shortest possible time. the effort enabled over 300 girls to return to earth-quake resistant and improved school infrastructure with adequate facilities of latrines and drinking water.
SRSP has rebuilt 97 government and public-private schools in KP and rehabilitated another 500 government schools in KP and FATA.
Rehabilitating infrastructure is, therefore, one key component of our efforts to improve the quality of service. The other important components include enhancing professional capacities of teachers, ensuring community participation, advocacy and introducing effective and innovative practices for improving quality of education. Robust monitoring and evaluation mechanisms are applied to identify bottlenecks, for course correction and drawing our lessons for informing future initiatives.
Details are given below.
Component 1: Rebuilding Schools; Reviving Hopes
SRSP has a well-established community-managed physical infrastructure programme. The RSPs have always helped communities to utilize their existing potential and to remove infrastructure constraints and help build resource base of the poor. These are mainly small-scale infrastructure schemes that address immediate and most pressing needs of communities. It is done for the simple reason that remote rural, which are very often cut off from the main towns, lack access to basic infrastructure that impacts their socio-economic conditions drastically. For instance, we know from our experience that local entrepreneurs lack access to markets because of no or ill-built roads and hence find it difficult to market their produce effectively. Similarly, we have seen whole villages on river banks being cut off from the main towns after disasters and wait anxiously for support which could not reach them because bridges were destroyed and there was no immediate recourse to access them.
Our process of infrastructure work includes identification of schemes by the communities, provision of technical and financial support to implement the scheme and ensuring community participation at all levels especially operation and maintenance. We have so far, established over 7,000 infrastructure schemes with PKR 3 billion and these benefit approximately a million households.
The infrastructure schemes mainly include drinking water supply schemes, suspension bridges, link roads (also called as farm to market roads), sanitation schemes, protection walls, micro-hydel power units, shelters and housing reconstruction and construction and repair of schools and health units.
In the earthquake affected districts SRSP reconstructed 64,000 houses that had 99% compliance rate when evaluated by the World Bank. This is the largest community-driven programme any non-government organization has ever implemented across the world. For rebuilding schools, SRSP has introduced its semi-permanent light weight steel structure. The details are as below.
3.1 Introducing and Piloting Semi-Permanent Light Weight Steel Structures in the Earthquake Affected Areas
SRSP believes in having an innovative, solution based and flexible approach to all its programmes. It was only due to that margin left for maneuverability that SRSP diversified its education strategy in the disaster and conflict affected areas by expanding its scope to include construction/rehabilitation of destroyed school infrastructure.
The wreckage caused by the earthquake in 2005 led to massive destruction of the infrastructure including the public and private school buildings. School administrations were compelled to either close down the schools, operate them in open air or in tents. SRSP played an active role in the revival of education system in the disaster affected districts of Mansehra, Abbottabad, Battagram and Shangla. It established tent schools in three of the districts for 114 government schools, delivered teachers' training, organized school committees and conducted psycho-social activities for children in schools which helped bring nearly 6,000 children back to the schools.
The government had pledged funds for the reconstruction of all its schools in the affected areas. But we know from our experience that a concrete building takes time and requires massive resources. This meant loss of further time for students who were without schools. There were partially damaged schools which due to inadequate facilities kept large number of students out of school. This has been an enormous challenge for the government and many others working for the promotion of education in Pakistan.
SRSP had strong presence in the earthquake affected districts with its development programme. When it launched its humanitarian programme in the area it soon became evident that one of the pressing needs of communities was rebuilding their shelters and schools for children. the engineering section quickly put together a blueprint of semi-permanent light weight steel structure and piloted the first model in a remote area (Village Cambria) of district Mansehra. This was a three-room building that was built within a period of two months. The structure was supported by UK-based Learning for Life that had mobilized resources from Mabey and Johnson Company. Their consultant had made frequent visits to Mansehra to help is refine the model technically. After the first successful pilot, the model was replicated for another 39 government, community-based and public-private schools in Mansehra and Battagram. This was done with financial support from Learning for Life, International Development and Relief Fund (Canada) and Care International. The effort enabled over 4,000 boys and girls to return to safe school environment.
These schools, as stated earlier, were constructed in the shortest possible time and proved to be cost-effective and quick turn-around solution. They are earth-quake resistant and have a life span of about 20 years.
3.2 Replication of Steel Structure in Conflict-Affected Areas
After the model proved to be successful in the earthquake affected areas, SRSP decided to replicate it for rebuilding schools in crisis-affected district of Swat. Nearly, 401 government schools were completely or partially damaged during the crisis and another two hundred were damaged during the July 2010 Floods. More than half of those affected during the crisis were girls' schools.
Thousands of children had already missed two years of education and were still vulnerable to losing more due to lack of infrastructure and missing or inadequate facilities. The number of drop outs had increased exponentially and the economic pressures indicated that the picture would not improve anytime soon.
SRSP replicated its semi-permanent light weight steel structure and rebuilt about 27 government schools with its own resources of PKR 28.2 million (US $ 0.331 million). This enabled return of approximately 5,000 students to schools in District Swat.
Emerging as cost-effective, time efficient, safer and reliable alternative, the structures was picked up by UKaid-DFID and another 40 government schools were rebuilt with funding of PKR 132 million or US$1.552 million. 32 of these were girls' schools. This project enabled more than 10,000 children to return to safe school environment. Halcrow International which was partnering with DFID for suspension bridges in crisis-affected districts validated our structure and model.
3.2 Rehabilitation/Repair of Schools
In addition to rebuilding schools, SRSP has also helped over 700 government schools with major and minor repairs and rehabilitation work in KP as well as in FATA (Kurram and Mohmand Agency). This has mostly been done in partnership with UNHCR-RAHA and GIZ-RAHA for afghan affected and hosting areas, Give to Asia, USAID-ESRA and USAID-RISE.
This work includes fixing up infrastructural deficiencies in schools for instance, constructing additional class rooms and laboratories, boundary walls, latrines and drinking water supply schemes etc.
We do this work through the involvement of Parent Teacher Councils who identify needs of schools. In some cases, we have given small grants to PTC and supported them with technical backstopping to implement School Improvement Plans. We have not only helped schools with infrastructure facilities but have always coupled the initiative with provision of adequate furniture for the students.
Component 2: Enhancing Teachers' Professional Capacities
SRSP's teachers' training programme comprises of 'Activity Based Learning Methodologies (ABLM) Training' and 'Subject-Specific Training'. The objective of the ABLM manual is to enable teachers to learn activity based learning methodologies and replace teaching methodologies that induce route learning, hindering the cognitive development of children.
The teachers who graduate from this training course undergo Training Needs Assessment. Based on the needs identified, teachers are trained in specific subjects. This training enables the teachers to develop skills to deliver subjects that they find difficult by using techniques and methodologies that are simple to adapt and easy to deliver. Exposure visits and teachers' networks for peer learning are also part of the teachers' capacity building programme.
SRSP also prides itself in having an internal resource group of Education Master Trainers to deliver training to teachers. These master trainers have acquired their expertise from renowned training institutes including Ali Institute of Training (Lahore), Children Global Network (CGN Islamabad) and Agha Khan Education Service (Karachi).
This component, funded by LFL, IDRF, USAID-ESRA, ICCO, Citi Foundation, Give2Asia and DFID etc, basically focused on teacher training and development. The trainings especially focused on adaptive learning techniques and enhanced skills in order to help facilitate, unite and encourage the children who had been witnesses to scenarios of armed conflict, displacement, loss and exploitation.
We have so far trained about 900 men and women teachers in government, community-based and public-private schools in KP and FATA.
Component 3: Community Participation
SRSP emphasizes on an all-encompassing, integrated approach to development and community participation is at the heart of its philosophy. This strategy especially focuses on the poor and the disadvantaged and ensures active involvement of women in the school committees. As regards to education, the community participation component entails capacity building and financial assistance of communities so they may acquire the knowledge and skills to create grass roots level school management. The component includes;
Formation/reactivation of Parent Teacher Councils/Village Education Committees
Developing their skills for identifying the needs of the schools, deigning, planning and implementing School Improvement Plans, which are financially supplemented through Small Grants and School Committee Government Funds
Building the financial literacy and advocacy skills of teachers as well as members of school committees
Scaling-up of School Committees for institutional strengthening
Conducting 'Behavior Change Communication' activities which include role plays and puppet shows and aim to sensitize communities on the importance of education, especially for young girls. These role plays are practiced and performed by the communities for communities in a communal gathering (like a Community Awareness Session) with the technical guidance of the professional staff. The script and moral of the role plays are purposefully targeted to try and change the attitudes of the people regarding issues in their community.
SRSP has so far organized and trained 800 Parent Teacher Councils with 6,400 members in KP and FATA with support of UKaid-DFID, CIDA, Care International, USAID-ESRA and USAID-RISE, UNHCR-RAHA etc.
Component 4: Advocacy
This component focuses on building and strengthening ties of the school committees with government and non-government agencies for improved delivery of education services. At the district level, SRSP engages them in advocacy initiatives, for instance district seminars and workshops which are attended by representatives from the government line departments. At the provincial level, SRSP is represented on the 'Provincial Coalition for Education' where it advocates for the improvement of education quality and basic facilities like clean drinking water and latrines etc. This has enabled the provision of free text books from the Education Department, KP, to the students of its community schools.
Component 5: Innovating Practices
Under this initiative SRSP has taken innovative steps to increase the access of children to education. This has been done through provision of academic scholarships and through establishing computer laboratories. This initiative is called, Enhancing Access of Youth in High and Higher Secondary Schools to Information through which 25 computer labs were established in government schools in Swat. The objective was to to globalize a small village level school, where the only source of information is the textbook and the teacher. In an environment where masses have been radicalized the increased access to information is the only way of helping youth develop critical thinking and be proactive in decision-making. This was identified as a priority need of the district education department.
Initiatives for Education in FATA
In FATA it is incredibly hard to deliver work in the prevailing security situation. Yet, SRSP has established a firm and consistent presence in the areas through its mechanism of community based organizations. Education has been a central theme in most of the projects undertaken for FATA.
One such project is Fata Integrated Area Development Programme (FIADP) funded by CIDA and Improving Social Sector Services by GIZ-RAHA. The projects aim at; Raising the Awareness of the Communities and Increasing the Access of Local Communities to Improved Education and Health Services. The following activities are being conducted under this project:
Establishment of 18 community based schools in Kurram Agency and FR Peshawar that enroll over 1,400 students (80% girls)
Rehabilitation of government schools in Mohmand Agency that has benefitted nearly 500 students
Teachers training for approximately 50 women and men teachers in the target areas
Formation of parent teacher/village education councils/committees and their training in their roles and responsibilities
Partnership with UKaid-DFID for Promoting Education
SRSP has a long working history with Ukaid-DFID, which has supported our institutional capacity building in our early years of establishment. We have partnered on several occasions to impact lives of disadvantaged in rural areas of KP. For instance, we partnered for a community physical infrastructure programme in Hazara Districts of KP. We were also funded by UKaid-DFID for the Rural Water, Sanitation and Supply Programme which was a large-scale initiative implemented across many districts of KP. Currently, we are also part of DFID-funded consortium for a security and justice needs programme in KP and FATA. This consortium is being led by Coffey International.
For promoting education, we have partnered with DFID for school reconstruction and quality project in District Swat. Currently, we partner with DFID funded initiatives through Alif Ailaan and Adam Smith International.
With Alif Ailaan, SRSP is implementing a project in district Mansehra, Battagram and Haripur for enabling communities to demand their right to education and engage in people-centered advocacy with education department, elected representatives and other government and non-government organizations. The entire concept of the project is based on enhancing capacities of communities for social audits.
With Adman Smith International, SRSP implemented a short-term initiative for training approximately 2,500 Parent Teacher Councils in seven districts of KP.
Chronology of SRSP's Education Initiatives
Geographic Outreach

Project Years

Components

Beneficiaries

Partners

Peshawar, Nowshera, Kohat, Karak, Abbottabad, Mansehra, Battagram and Chitral

1998-2005

Establishment of Community-Based Schools, Formation and Training of Village Education Committees, Teachers' Training, Alliance Building etc.

70 community-based schools in areas where there are no government and/or private schools, enabling over 3000 girls and boys to return to schools

120 community school teachers (60% women) trained in activity-based learning methodology and

70 Village Education Committees (420 members-50% women

Learning for Life (UK-based Organization)

Upper Dir

2003-2006

District Education Planning, Capacity Building, Education infrastructure improvement, District Education Department capacity building

100 government school teachers (60% women) trained

100 PTCs formed with 800 members-60% women trained

School improvement grants to 100 schools

Education networks organized at the district level

USAID(ESRA)

Abbottabad, Battagram and Mansehra

2006

Establishment of government tent schools; capacity building of teachers, reformation and training of parent teacher councils and psycho-social activities for children

114 government tent school teachers (60% women)

114 Parent Teacher Councils formed and 912 members with 60% women trained

228 teachers trained in activity-based learning techniques

USAID Revival Of Education Programme for Earthquake Affected Areas

Mansehra and Battagram

2006-07

Construction of Semi-Permanent Light-Weight Steel Structures

27 community schools and 3 public-private schools built with SRSP's Semi-Permanent Light Weight Steel Structures model

Learning for Life and International Development and Relief Foundation

Kurram Agency and FR Peshawar

2007 (on-going)

Establishment of Community-Based Schools, Formation and Training of Village Education Committees, Teachers' Training, Alliance Building etc.

18 community-based schools established

18 Village Education Committees (VEC) have been formed with 108 members

32 teachers in the Community based schools trained

One time grants for a total amount of PKR 800,000 per community-based school being disbursed for sustainability

CIDA (FATA Integrated Area Development Programme)

Mansehra

2007-10

Improving Public Education in Earthquake affected Areas

300 PTCs formed or revived

2400 members of PTCs trained -60% women

191 PTCs given small grants for school improvement plans

USAID-Revitalizing, Innovating and Strengthening Education (RISE)

Swat

2010

School Infrastructure Improvement, Teachers' Training, Formation and Training of Parent Teacher Councils and Psycho-Social Activities for Children

25 government school teachers trained -all women from 6 schools

6 PTCs formed -48 members, all women trained

Grants for minor repairs in schools with the assistance

Give2Asia, Citi Foundation, ICCO

Swat

2010-11

Construction of Semi-Permanent Light-Weight Steel Structures; Teachers' Training, Formation and Training of Parent Teacher Councils and Psycho-Social Activities for Children

Rebuilt 40 government schools (32 for girls and 8 for boys)

Teachers Professional Development for 120 teachers

Psycho social activities conducted in 40 schools

Formation and training of 40 PTCs (32 men and 8 women PTCs) with 320 members (256 women and 64 men)

DFID's Education Revival Programme

Haripur and Manshera (Ongoing)

2013-14

Mobilizing communities to demand education

160 Community Resource Persons identified and trained on Demanding Right to Education module

Capacity building of LSO executive body members in the 16 target UCs

2 UC level walks successfully concluded in Haripur and Mansehra

Meetings with political workers and PTCs underway

RSPN and DFID (Alif Ailaan)

FATA

2013

Formation, training, capacity building of PTCs. Making school improvement plans and distributing grants

Formed PTCs and notified them with education department

Trained 28 PTC members on their roles and responsibilities

Facilitated PTCs & to develop School Improvement Plans

GiZ and RAHA

District Mansehra and Haripur

2013-14 (on-going)

Establishment of PTC, enhancing capacities of Local Support Organizations and community resource persons and parents.

In and out of school children

Rural Support Programme Network (RSPN) and Alif Ailaan

District Peshawar, Charsadda, Nowshera, Mardan, Haripur, Mansehra and Battagram

2013

Training of men and women PTC

Follow-up/Monitoring of PTC

2,500 PTC were provided with financial management training

Adam Smith International

Torghar & Kohistan

2013-14

PTC reactivation/reformation and training

Development of School Improvement Plans

Organizing child centered activities and enrollment drives

100 PTC reactivated and trained

800 out of school children enrolled in schools

100 school Improvement Plans developed

UNICEF

Peshawar, Mardan, Haripur, Abbotabad & Mansehra

2014

Training of Head Teachers and Teachers

Promotion of global citizenship

Capacity building of teachers through on-line courses

Seeking funded partnership

80 Teachers trained on global citizenship

40 schools are being facilitated for funded partnership

British Council